Homemade with a heart

FOOD & DRINKS AT STOCKHOLMSMÄSSAN
Rest your feet at Caffé Galleria, enjoy a glass of wine at Flavour bar or sit down for a nice lunch in The Garden. As a visitor at Stockholmsmässan you have a wide selection of restaurants and cafés to choose from. We focus on well-prepared food with seasonal produce from local farmers. We are eco-certified with the Nordic Eco-label.
Mässrestauranger operate twelve permanent restaurants and cafés at the fair (map below), which are open during most events and sometimes we also create pop up solutions with tailor-made menus. Welcome!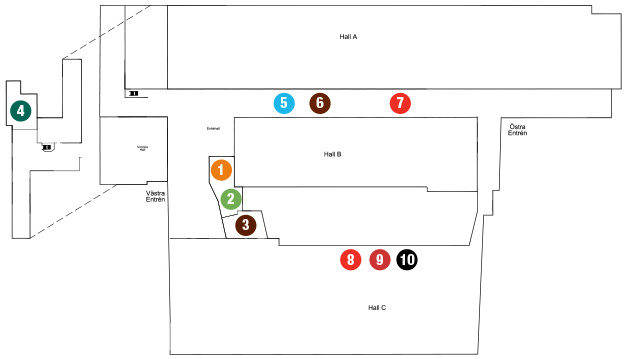 1 & 2. Flavour Bar & Flavour Kitchen: Flavour Bar is a bistro café where you can enjoy simple hot and cold dishes, hearty sandwiches and pastry from our own patisserie, a caffè latte or a beer. Open from early until late. Flavour Kitchen offers a wide selection of well-prepared food; oriental wok, tasty dishes from the grill, organic vegetarian food, soups, salads and Swedish traditional classics.
3. The Garden: The Garden is a bright and spacious à la carte restaurant serving contemporary food in a modern design setting. Make a reservation or have a look at the menu>>
4. The Parkside: Exhibitors restaurant with tasty lunches during exhibitions, congresses and similar events.
5. Nigiri Sushi: Nigiri Sushi serveras modern sushi made of fresh fish, tofu and a signature nigiri with Swedish prawns, Japanese mayo and chili.
6. Caffè Galleria: Freshly brewed coffee, pastry from our own patisserie and a wide selection of homemade sandwiches and salads.
7 & 8. Burger Shop: Hamburgers straight off the grill with homemade dressing, vegetarian burgers, chicken nuggets and gluten free options.
9. Bar and Coffee: Our assortment here varies with the event calender. We serve freshly brewed coffee, pastry from our own patisserie, homemade sandwiches and salads.
10. C Café: A wide selection of simpler dishes such as pies, pizzas, salads, sandwiches, pastry from our own patisserie, cold beverages and freshly brewed coffee and tea.